The Control of Ectoparasites in
Cattle and Sheep
Ectoparasites are responsible for economic losses to livestock producers.
---
Information about Culicoides midges, the only identified vector of BTV.
---
Deltamethrin, a safe effective solution for the treatment of ectoparasites on livestock.
---
The importance of a combined approach using vaccination and vector control.
---
For treatment against flies and biting midges in cattle and sheep.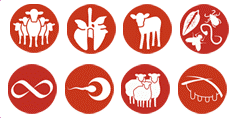 Click here for more
Ruminants Solutions
Direct losses are as a result of discomfort and damage to hides and fleeces caused by the parasite. Indirect losses are from diseases transmitted by the ectoparasites.
Deltamethrin
The Butox® range of formulations contains deltamethrin as an active ingredient. Deltamethrin belongs to the class of synthetic pyrethroids.
Deltamethrin has a wide spectrum of activity against insects and acarids. It is very safe for target animals as well for those applying the product. As deltamethrin is fully biodegradable it presents little risk for environmental contamination.
Bluetongue control
Bluetongue (BTV) is an insect borne viral disease of ruminants. Recent outbreaks in Northern Europe have been attributed to climate change creating favourable conditions for the BTV virus vector, Culicoides midges.
Effective vector control and specific vaccination against the predominant serotypes is necessary for successful BTV control.
Ectoparasites are responsible for direct and indirect losses to cattle and sheep producers.