Culicoides midges
Culicoides midges belong to the order Diptera (2 winged flies), genus Culicoides. Culicoides are significant to livestock production as they are able transmit diseases such as Bluetongue to cattle and sheep.
Importance of Culicoides in the veterinary field
Vector of viruses
Bluetongue
African Horse Sickness
Epizootic Hemorrhagic disease
Akabane
Bovine ephemeral fever
Vector of parasites
Haemoproteus
Leucocytozoon
Onchocerca
Mansonella
Role as a virus vector
Culicoides play an important role as the vector of emerging viruses in Europe.
Especially significant are viruses of Reoviridae family, type Orbivirus:
Bluetongue: 24 different serotypes are known
African Horse Sickness
Epizootic Hemorrhagic disease
Culicoides and bluetongue
In Western and Northern Europe it has been determined that local Culicoides species are vectors of BTV and not species that have migrated from southern areas.
The African species Culicoides imicola has been determined as the main vector of BTV outbreaks in Africa and Southern Europe. In Western-central Europe the virus has been isolated by Real-Time-PCR technique from Culicoides obsoletus.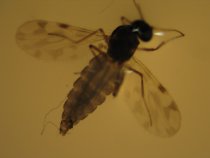 bluetongue-info.com
---
See the Bluetongue website for more information about Culicoides and the transmission of Bluetongue.
Culicoides midges, the only identified vector of BTV.